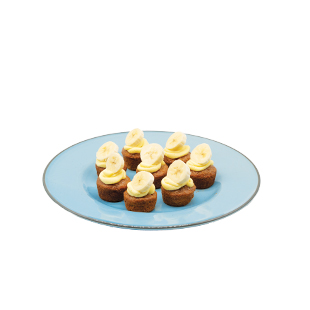 Cookie Cups:
1 c. sugar
1/2 c. softened butter
1 egg
1 tsp. vanilla
1/3 c. sour cream
1/2 tsp. salt
1/2 tsp. baking soda
2 c. flour
1 tsp. cinnamon
Banana Cream Pie Filling:
1 3.4 oz. box banana cream instant pudding
1 8-oz. tub whipped topping
1-2 bananas, sliced
Preheat oven to 325 degrees F.
In a large mixing bowl, use a hand mixer to cream together sugar and butter. Add egg and vanilla, mix until blended, then add the sour cream, salt, and soda, mix until well-incorporated. In a separate bowl, whisk together flour and cinnamon. 
Add half of the flour mixture to the wet ingredients, and using a hand mixer blend until incorporated. Add last half of flour mixture, blend until fully mixed.
Liberally spray a mini muffin tin with non-stick cooking spray. Scoop out 1 TBSP of dough into each muffin cup. The dough will make about 36 cookies.
Bake for 14-17 minutes, until a light golden color. Let cookies stand for 1-2 minutes after taking them out of the oven. Using the back of a teaspoon measure, press down into the center of each cookie to create a well.
Let cool completely.
While cookies are baking, whisk together pudding packet and Blue Chair Bay‡ Banana Rum Cream. Fold in cool whip. Put rum mixture into a gallon size ziplock bag, seal, and refrigerate until ready to use.
Once cookies are cooled completely, take the banana rum cream pie mixture out of the refrigerator. Cut one corner of the Ziploc bag, then pipe mixture into the well of each cookie cup.
Top with a slice of banana and/or caramel syrup and enjoy!