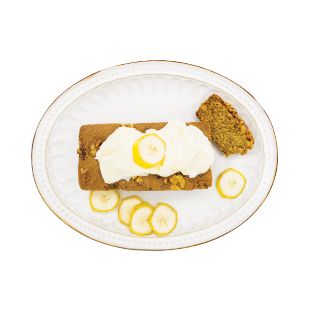 Banana Bread:
2 1/2 tbsp. Blue Chair Bay® Banana Rum Cream
1 stick of butter, melted and browned
1 2/3 cup all-purpose flour
1 tsp. ground cinnamon
1 tsp. baking soda
3 brown bananas
2/3 cup sugar
1 large room temperature egg, slightly beaten
8 oz. can of crushed pineapple, drained
1 tsp. vanilla extract
1/3 cup chopped pecans, optional
Boozy Cream Cheese Frosting:
1 tbsp. Blue Chair Bay® Banana Rum Cream
8 oz. cream cheese, softened at room temperature
1 stick unsalted butter at room temperature
3 cups confectioners' sugar, sifted
2 tsp. vanilla extract
1/8 tsp. salt
Banana Bread:
Preheat oven to 350 degrees.
Spray a 9x5 inch loaf pan with non-stick cooking spray.
Melt the butter in a small pot over medium heat, stirring occasionally. Keep an eye on it so it doesn't burn. Cook for 3-4 minutes until the butter begins to brown. Remove from the heat and set aside.
In a medium bowl, whisk together flour, cinnamon and baking soda and set aside. In a large bowl, mash your overripe bananas with a fork. Add the melted brown butter. Then, add the sugar, egg, crushed pineapple, Banana Rum Cream and vanilla and stir with a spatula until blended. Stir in the flour mixture and mix until they're just combined.
Pour your batter into your prepared pan. Bake for 50-55 minutes or until a toothpick comes out clean when inserted into the center of the bread. If bread is browning too quickly, tent it with foil. Remove the bread from the oven and proceed to let it cool on a wire rack for 15 minutes. Once it's cooled, carefully remove it from the pan.
Cream Cheese Frosting:
Add the cream cheese and butter to a mixing bowl. Beat on medium speed for 1-2 minutes until everything is well blended.
Gradually add the confectioners' sugar, vanilla, Banana Rum Cream, and salt.
Slowly adjust the speed to high and beat until the frosting is light and fluffy. Make sure you scrape the sides of the bowl as needed.
Spread the boozy frosting on the banana bread and top with pecans, if desired.