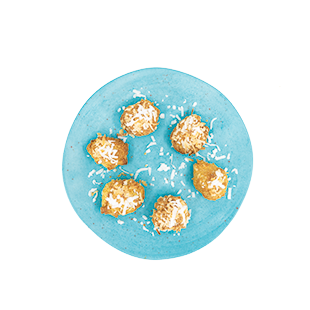 1 tbsp. Blue Chair Bay® Coconut Rum
1 cup softened unsalted butter
1 cup brown sugar
1/4 cup white sugar
1 large egg
1 egg yolk
2 1/4 cup all purpose flour
1/2 tsp. baking soda
1/4 tsp. baking powder
1/4 tsp. kosher salt
1 cup sweetened shredded coconut
Cream together butter, brown sugar, and white sugar until fluffy.
Add egg, egg yolk, and rum. Mix together.
Add flour, baking soda, baking powder, and salt. Mix.
Pour shredded coconut into a mixing bowl. Scoop dough out using an ice cream scooper and roll in shredded coconut until completely covered.
Place cookies on a parchment paper lined baking sheet and freeze for 30 minutes.
Preheat oven to 350 degrees F.
Bake 17-20 minutes. Look for golden brown edges to tell you they are done!