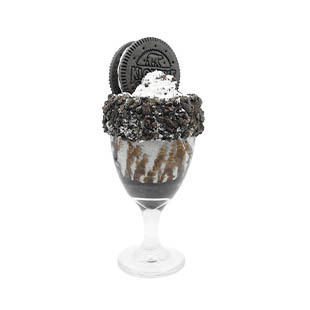 6 scoops vanilla ice cream
Oreo cookies
vanilla frosting, for rim
Oreo cookie crumbs, for rim
mini chocolate chips, for rim
whipped cream, for garnish
Oreo Klondike Bar, for garnish
Use vanilla icing, muddle Oreo cookie crumbs, and mini chocolate chips to rim the edge of your glass. Set aside.
In a blender, combine vanilla rum, coconut spiced rum cream, ice cream, and Oreo Cookies. Blend thoroughly until smooth.
Drop muddled Oreo crumbs in the base of your rimmed glass and drizzle in chocolate syrup.
Pour in the blended mix and top with whipped cream.
Garnish with an Oreo Klondike bar, Oreo cookies crumbs, and chocolate chips.