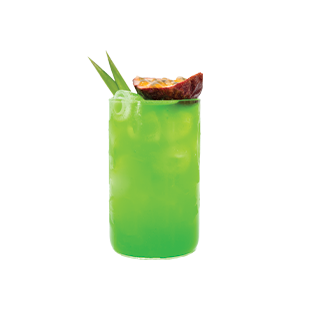 .5 oz. blue curacao
.5 oz. passion fruit liqueur
1 oz. lime juice
2 oz. pineapple juice
passion fruit, half
pineapple leaves, for garnish
Scoop out the insides of a fresh passion fruit into a shaker. Add Blue Chair Bay White Rum, blue curacao, passion fruit liqueur, lime juice, and pineapple juice. Fill the shaker with ice and shake. Strain into a glass with fresh ice. Garnish with pineapple leaves and the other half of a passion fruit.