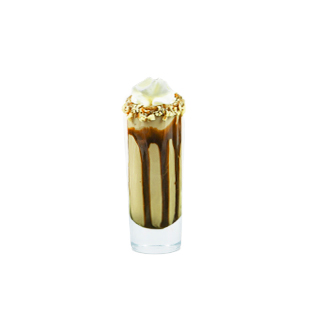 2 oz. hazelnut liqueur
scoop of nutella, plus more for rimming
chocolate syrup, for garnish
chopped nuts, for garnish
whipped cream, for garnish
Rim shot glasses with Nutella followed by crushed hazelnuts. Set aside. Add chilled Coconut Spiced Rum Cream, hazelnut liqueur, and Nutella to a shaker. Shake vigorously. Rim the inside of the shot glasses with chocolate syrup. Then, strain the shots into the glasses. Top with whipped cream and chocolate syrup, if desired. Serves 2. Cheers!