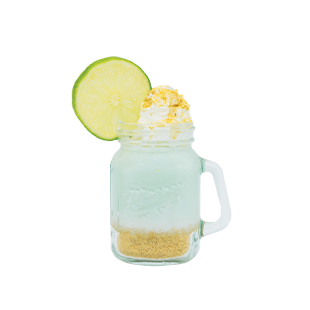 Key Lime Mason Jar Cheesecakes
2 cups graham cracker crumbs
3 tbsp. unsalted butter, melted
1 8-oz. package of light cream cheese, softened
1 8-oz. tub of whipped topping, thawed
2 tbsp. key lime juice
zest of 3 key limes
1/3 c. sweetened condensed milk
Melt the butter in a small microwave-safe bowl. Add butter to graham cracker crumbs and work with hands until combined.
Evenly distribute crumbs into each bowl and press down to make firm.Place the bowls in the freezer for at least 30 minutes.
In a large mixing bowl, beat together the cream cheese, whipped topping, key lime juice, zest, Blue Chair Bay Key Lime Rum Cream and the condensed milk until well-combined. Scoop into a ziploc bag and cut one corner of the bag.
Remove the bowls from the freezer. Pipe or spoon the filling into each bowl.
Cover and refrigerate for at least 4 hours before serving (overnight is best).
Serve topped with whipped cream and graham cracker crumbs for optimal presentation points.