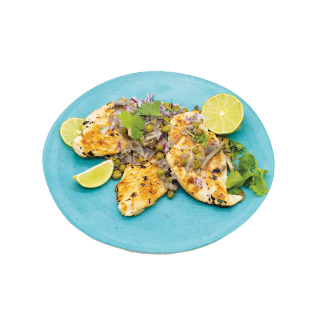 2 boneless skinless chicken breasts
1 cup red onion, diced
2 cups chicken broth
1 tbsp. cilantro
1 tsp. lime juice
1/4 tsp. red pepper flakes
2 cloves garlic, minced
4 tbsp. coconut milk
2 tbs. butter
1 cup peas
5 oz. can bamboo shoots
salt and pepper to taste
Pound chicken breasts (cut in half - optional) to ¾ inch. Salt and pepper to taste.
Saute chicken in a large oven-proof skillet until each side is golden brown - does not need to be cooked through just yet.
Remove from skillet and cover with tin foil to keep warm.
In same skillet, add onion and saute for 1 minute until start to brown.
Add chicken broth, cilantro, lime juice, red pepper flakes and garlic. Stir, scraping up browned bits off bottom.
Bring to a boil and reduce liquid by half.
Add in Key Lime Rum Cream, coconut milk, and butter. Simmer until butter melts.
Add peas and bamboo, bring to simmer.
Add chicken back into pan.
Bake at 350F until chicken is cooked through.
Serve with coconut rice and enjoy!