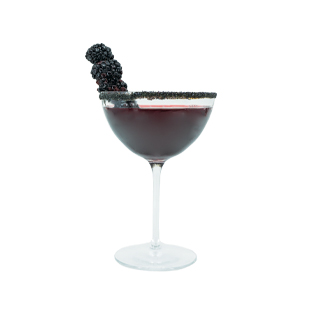 Blackberry Simple Syrup:
1.25 cups water
.75 cups sugar
2 tbsp. lime juice
3 lime wedges
1 cup fresh blackberries
Blackberry Simple Syrup: In a pot, heat the sugar, blackberries, lime wedges, lime juice, and water over medium-high heat. Simmer for 10 minutes. Remove syrup from the heat and muddle the blackberries. Let the syrup cool for 10 minutes then strain it into a bowl or cup. Store in an air-tight container in the refrigerator.

Cocktail: Rim a martini glass with black sanding sugar. For one cocktail, add 3 ounces of the blackberry simple syrup, 1.5 ounces of Blue Chair Bay White Rum, and a squeeze of fresh lime juice into a cocktail shaker. Shake vigorously. Strain into your martini glass filled with ice. Top with lemon-lime soda, then garnish with blackberries on a cocktail skewer.