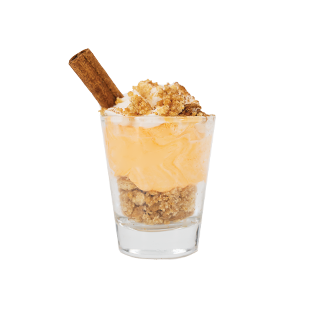 No Bake Pumpkin Cheesecake
1 cup graham cracker crumbs
2 tbsp. coconut sugar
1 tbsp. coconut oil
Filling:
2 tbsp. Blue Chair Bay® Vanilla Rum
4 oz. lite cream cheese softened
1/2 cup pumpkin puree
1 tbsp. pumpkin pie spice
1/4 cup coconut sugar
1 1/2 cups whipped topping
8 cinnamon sticks for decoration, optional
Combine graham cracker crumbs, coconut sugar, and coconut oil in a bowl. Use a mixer as necessary.
Spoon an equal amount into the bottom of 8 shot glasses, leaving a small amount to garnish.
Using a mixer, beat cream cheese until smooth and creamy.
Add Vanilla Rum, pumpkin puree, pumpkin pie spice, and coconut sugar.
Beat until smooth and sugar is dissolved.
Mix in 1 cup of the whipped topping. Once light and creamy, divide equally into shot glasses or dessert dishes.
Finish off each shot glass with a dollop of whipped topping. Sprinkle with cinnamon and graham cracker crumb mixture.