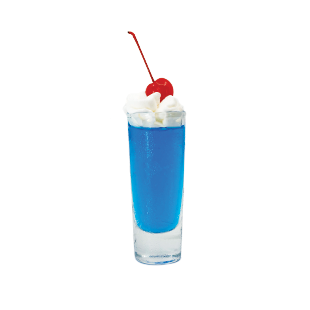 1/2 cup Blue Chair Bay® Coconut Rum
1/2 cup blue curacao
1/2 cup pineapple juice
1 box ocean water gelatin
whipped cream, for garnish (option)
cherries, for garnish
Boil 1 cup of water on a stove. In a glass bowl, add the gelatin, followed by ½ cup of the boiling water. Once that fully dissolves, add the rums and pineapple juice. Stir well. Pour into your shot glasses and let set in the refrigerator for 4 hours. Once the gelatin is set, garnish with whipped cream and a cherry.