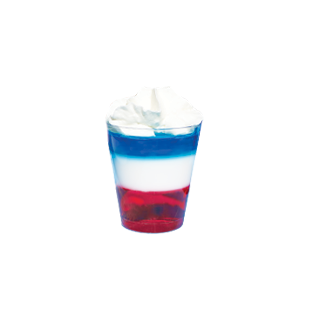 Boil 1/2 cup water and transfer to a small bowl. Stir in cherry Jell-O until dissolved. Add 1/2 cup chilled Coconut Rum. Repeat the process with berry blue Jell-O and Coconut Rum.
Meanwhile, prep the white layer. In a medium bowl, combine the gelatin envelopes with 1/4 cup of milk. Then, bring the remaining 3/4 cup milk to a simmer in a small saucepan. Once it's simmering, remove from the heat and stir in sugar, vanilla, and Vanilla Rum. Pour this over the gelatin mixture in your bowl and stir until dissolved. Let this cool for approximately 10 minutes.
Pour 1.5 tablespoons of cherry Jell-O mix into all of the glasses. Refrigerate until they're set but not yet firm.
Once that is set, top with the 1 tablespoon white gelatin mixture in all of the shot glasses. Refrigerate until this layer is set.
Top with 1.5 tablespoons of berry blue Jell-O mixture. Refrigerate until the shots are completely set, approximately two hours.
Fill shot glasses 1/3 full. Refrigerate until set.
Top with whipped cream and festive sprinkles. Serve with a spoon.