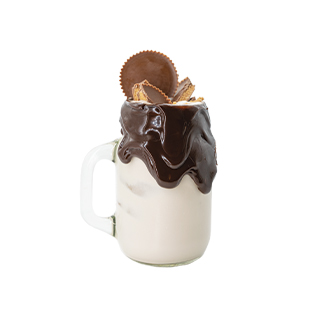 .5 oz. peanut butter whiskey
.5 oz. coffee liqueur
.5 oz. amaretto
1.5 oz. cream of coconut
1 oz. pineapple juice
1 tbsp peanut butter
chocolate syrup, for garnish
reese's peanut butter cups, for garnish
Add rum cream, peanut butter whiskey, coffee liqueur, creme de cacao, amaretto, cream of coconut, pineapple juice, and peanut butter to a cocktail shaker filled with ice. Shake well to combine. Strain cocktail into a cocktail glass. Drizzle with chocolate sauce and top with peanut butter candy.