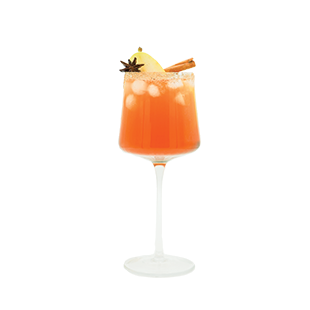 1.5 oz. Aperol
1.5 oz. pear juice
cinnamon, a dash
sparkling wine
cinnamon sugar, for rimming
pear slice, for garnish
cinnamon stick, for garnish
In a cocktail shaker filled with ice, combine rum, Aperol, pear juice, and a dash of cinnamon. Shake vigorously and set aside. Rim cocktail glass with cinnamon and sugar. Add ice and strain in the mixture. Garnish with a pear slice, cinnamon stick, and star anise.