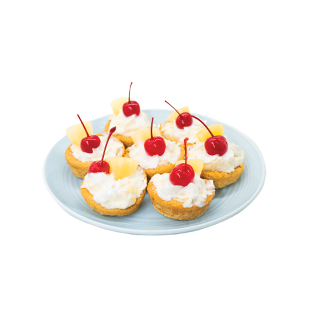 3.5 oz. Blue Chair Bay® Coconut Rum
1 pack of sugar cookies
1 container of cream cheese frosting
3 tbs. crushed pineapple, extra for topping
whipped cream
cherries
Press sugar cookies into greased muffin tin. Shape cookie cups with a shot glass.
Fill a spray bottle with 2 oz. Blue Chair Bay Coconut Rum. Spray cookie cups with rum.
Bake at 350 degrees for 10-12 minutes. Cool, shape again with shot glass.
Add 1.5 oz Blue Chair Bay Coconut Rum to cream cheese frosting. Add 3 tbsp. crushed pineapple. Mix.
Fill cookie cups with frosting. Top with whipped cream, extra pineapple, and cherries. Enjoy!