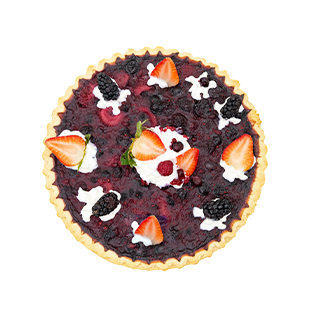 1.5 oz. Blue Chair Bay® Vanilla Rum
1 cup sugar
1/4 cup cornstarch
1/2 tsp. cinnamon
dash of salt
1/4 cup water
4 cups mixed berries
squeeze of lemon
pie crust
egg white
Preheat the oven to 400F. Add 1 cup sugar, 1/4 cup cornstarch, 1/2 tsp. cinnamon, and dash of salt. Mix.
Add 1/4 cup water and 1.5 oz. Vanilla Rum. Mix.
Add 4 cups mixed berries and mix. Bring to a boil, stir until thickened. Cool. Add a squeeze of lemon, mix.
Pour into pie crust. Fold edges over and brush with egg white.
Bake at 400° for 10 minutes.
Adjust to 350° and bake for 45 minutes.
Remove from oven.